Testimonials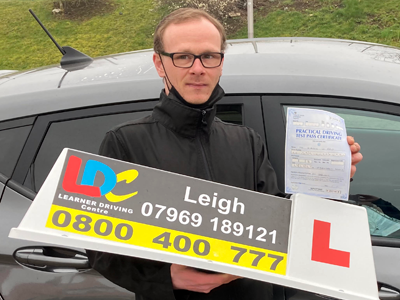 Kieron Reid
Great Instructor!
Leigh is a great Instructor! She took me from scratch lesson 1 to first time pass in 30 lessons! Using the LDC workbook and Hub really helped along with Leigh as I have a learning disability. I would highly recommend Leigh to anyone looking for driving lessons. Polite, professional and friendly! 5 out of 5 Stars!
Aniqah Begum
Excellent and thorough
My instructor was excellent and made sure that I learnt driving skills thoroughly and correctly before moving on to learning new driving skills. The LDC workbook and videos were very helpful in developing my understanding of driving.
Rebecca Thom
Amazing!
Leigh has been amazing! She made me feel comfortable and at ease. She made me feel confident and focused when I was driving. I really found the learning methods Leigh used made learning to drive a lot more understandable to a new driver. I couldn't have asked for a better instructor! I enjoyed writing my lesson review after each lesson in my workbook. I found it helpful as I could reflect on my progress.
Sarah Quinn
"Fantastic" 5/5
Leigh has been great. I have discovered I had a few issues with controlling my feet among other issues but Leigh has been trying to find ways of fixing my issues together, finding out why I was having the issues. She really is fantastic. I find the systems and apps used were really helpful. The book especially and the little quizzes after every chapter. Overall I have been very happy with everything, it's just a shame I was struggling with manual and have to switch to Automatic. Instructor note: Sarah has had a journey where we latterly took an automatic car out and discovered that in removing the clutch and gears, this allowed Sarah to concentrate on what was going on around her to be able to make safer decisions. This is not to say that one day she may attempt manual again, but for now we have sourced her an auto instructor.
Lee Davidson
Leigh is very calm, caring, punctual, a good laugh and natural at teaching. I was very anxious about driving and Leigh's reassurance helped settle my nerves. I highly recommend her as a driving instructor, especially if you are anxious about it, you will not be disappointed.
The LDC system is very thorough and breaks down the different topics of driving very effectively. I used the book, website, and mobile phone application as my methods of learning. The mobile phone application comes in very handy for studying on the go, while on a break at work etc.
Call today on 07969 189121 or Email me to find out more
If you have any questions or to book lessons today, feel free to contact me